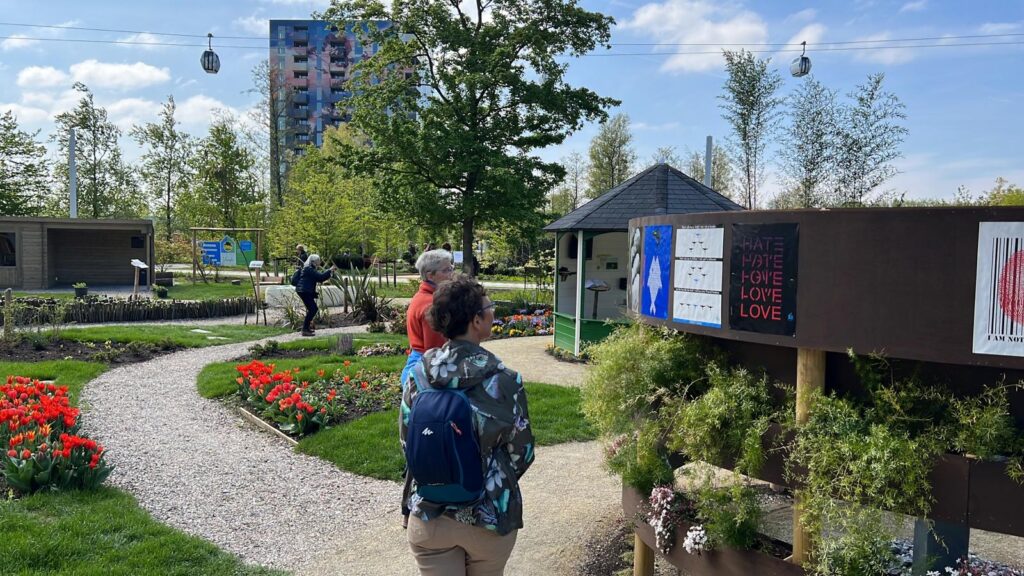 Un espace dédié au Vivre Ensemble en Paix
Dans le cadre de l'Exposition internationale Floriade 2022 qui se tient dans les villes d'Amsterdam-Almere (Pays-Bas), AISA ONG Internationale et la Maison de la Paix inaugurent leur Garden of Peace le 16 mai 2022, date de la 5ème édition de la Journée Internationale du Vivre Ensemble en Paix (JIVEP), décrétée par les Nations Unies.
« Floriade Expo 2022 est consacrée aux villes de demain. Lorsque nous parlons des villes du futur, nous pensons généralement science-fiction, technologies, monde virtuel et nous omettons les liens qui unissent l'humain au reste du monde vivant. L'essentiel dans une ville, pour nous, est de concevoir la meilleure façon de vivre ensemble en harmonie, dans le respect des différences. »
Cheikh Khaled Bentounes
Réalisé avec le concours bénévole des membres de la Maison de la Paix et de AISA ONG, Garden of Peace permettra aux deux millions de visiteurs attendus de découvrir leurs réalisations originales et celles de leurs partenaires :
La maquette de la future Maison de la Paix (Huis Van Vrede) d'Almere ;
Les réalisations florales des 6 continents ;
Le Mur d'Or « Universal Human Values Exhibition », des paroles inspirantes de personnalités de paix ;
Le Jardin médicinal ;
L'École de la Paix d'Almere, qui ouvrira ses portes en août 2022 ;
Le Guide pédagogique d'Éducation à la Culture de Paix ;
La Déclaration Universelle du Vivre Ensemble en Paix ;
Les Parfums « Vivre Ensemble » ;
L'Exposition graphique du designer international Armando Milani ;
Humanitas, l'œuvre Next Generation de la land-artiste Angela Groeneveld.
Cette journée inaugurale débutera dès 12h au lot N°58, et se clôturera à 16h par une table ronde autour du film « Nous Tous », réalisé par Pierre Pirard.
Garden of Peace est ouvert au public jusqu'au 9 octobre 2022.
« Nous souhaitons que cette réalisation puisse inspirer toutes celles et tous ceux qui œuvrent pour le Vivre Ensemble en Paix dans le reste du monde. »
413 partenaires dans plus de 52 pays célèbrent la Journée Internationale du Vivre Ensemble en Paix avec nous à travers le monde. Pour de plus amples informations, rendez-vous sur 16mai.org
Contact international : Farid Ait-Ouarab/ farid@aisa-ong.org
Contact Pays-Bas : Najoua Fares/ najoua@aisanet.nl